How I can help you lose fat, build lean muscle, and stop worrying about your diet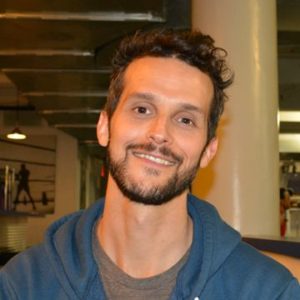 I'm Anthony Nehra, the trainer, nutrition coach and author behind NYCFit.com. I created this site to bring you the unbiased, no-bullshit info you need to get the body you want.
Who doesn't want a stronger, leaner, sexier body? But like most people, you're probably drowning in fitness information. And that program you downloaded 2 years ago isn't working anymore.
I help people lose fat, build lean muscle and transform their bodies, so you can ignore all the fitness magazine hype, and get the body you want.
If you want a customized training program and a made-for-you nutrition plan, check out my Online Personal Training program. Stop piecing together different workouts from magazines and websites, and get on the fast track to your best body ever.
Live in NYC? I also offer 1-on-1 Personal Training.
And if you just want to stay in the know, subscribe to NYCFit.com and the best stuff delivered to your inbox. No SPAM ever. Just real-life, up-to-date fitness info that you can use!
My Story
I was a fat kid.
No sports. Lots of television. I used to ride my bike around town, but it was usually followed up with a candy bar.
One time I called to order a pizza after school. When I gave my address, the woman on the other end said, "I thought I recognized your voice."
That's a fat kid.
Around the end of high school, I almost graduated from a 36-inch waist to a 38. But the thought of jelly rolling into 38-inch (probably pleated) pants every day was a huge turnoff. So I made a decision. But down the big mac(s) and get my fat ass to a gym.
I still ate pizza, but I was no longer friends with the staff at Domino's. I started running and swimming…a lot. And I did a few races, including the NYC triathlon.
But I still had no clue what a balanced training program looked or felt like. So I went from being a fat kid to an overtrained, underfed, skinny endurance athlete.
Through trial and error, study, and some luck, I found the training and diet methods that make me stronger, leaner, happier and more flexible.
If you're like me, you've taken in a LOT of health and fitness information, tried many different workout programs, and experimented with more than a few diets.
A few things I've discovered along the way:
Balance your training and diet with the rest of your life. Try not to obsess.
Train hard. Lift heavy things. Challenge yourself. Your body and mind are stronger than you realize.
Keep making progress. Whether it's your training, your relationships, your job, whatever. Keep getting better. Work smarter and sometimes harder.
Be consistent. Seriously, don't f* this one up. It's the key to progress.
Eat food that you love. Eat food that fuels and nourishes you. You can do both. It's not one or the other.
Break the rules…occasionally. Don't feel guilty if you eat junk or miss a workout once in a while. Get back on the horse and keep going.
I'm passionate about helping you reach your goals. Please check out my Body Transformation Coaching program to see how I can help you achieve them. Thanks for reading.