Lose Fat, Build Lean Muscle, and Get Strong at Any Age
You're not 25 anymore. Take control and get the strong, lean physique you need to get noticed, without giving up your social life.
You're not a hot young thing anymore. But you're not exactly over the hill either.
You're a success at work and in almost every way – personally and professionally – except maybe in what matters most:
You can't seem to get the broad shoulders, thick arms and flat stomach you need to really be noticed. And let's face the ugly truth: appearance matters.
Why not look great walking down the beach with your shirt off? Why not turn heads?
It can be done. It has been done. Just ask Ben:
"I've put on about 10 pounds of muscle. My legs got so big I had to retire a bunch of my pants and shorts. I went up from a 40R to a 42R jacket."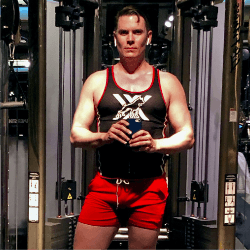 Ben R.
New York, NY
And you can do it, too.
So it's time to stop worrying about ending up soft and sad and lonely and take control by taking action.
But it's not easy. And your current situation is NOT your fault.
You know what you want: broad shoulders and a v-shaped back, with a big chest and abs upfront.
So you find a training plan, hit the gym, and give it your all. Drenched in sweat and sore all over, you're finally back on track to building your best body. Or so you think.
But after a week or so, you find yourself in a familiar spot: you're living in the gym, tired all the time, and you haven't seen your friends.
You have a busy job and an active social life. You can't be in the gym for hours every night after work and all weekend long. And you don't want to be this sore and tired all the time.
How do you get the strong, lean physique you really want while still living your life? Isn't working out supposed to make your life better instead of taking it over?
Get the Help You Need to Lead the Life You Deserve
I'm Anthony Nehra. I can help you get there because I've been where you are, struggling to get a stronger, leaner body that gets you noticed.
I help busy, successful guys in their 30's, 40's and beyond build muscle and lose stubborn body fat. Many had previously struggled for years with fitness information overload.
Ben says: "Anthony is highly experienced and educated. And he's also very friendly, engaged and always willing to answer questions. He knows how to produce results".
Ben is just one of the hundreds of guys from around the world I've helped:
Build a lean, muscular body without spending hours in the gym every day
Lose stubborn body fat while still eating the foods you love
Get the body of your dreams and still enjoy dinners out and drinks with friends
I didn't always have it figured out.
Just like you, I struggled for a long time trying to figure out the right way to build a strong, lean physique.
I was a fat kid who loved to eat and hated exercise. After Sunday dinner at Grandma's house, we'd swing by other Grandma's house and I'd pretend like dinner #1 (and dessert) never even happened. And then I'd take a can of coke for the road.
But after being called out by a 'friend' for having the biggest tits in class, I'd had enough. I wanted to have a lean, ripped body like the guys I admired. (And to have even the remote possibility of getting laid.)
It was time for a change. It was time to take action. So I took my lazy, portly ass to the local gym to finally look and feel good.
I was totally clueless at first. I wasted a lot of time running mile after mile and doing exercises that seemed cool and complicated. I was sure that if I sweat enough and got really, really sore, I'd succeed. But I was wrong.
Not only did my training leave me beat up and tired, I tried to completely cut fat out of my diet. Then I switched it to a high-fat, no-carb approach. (More fun, but still terrible and ineffective.)
Nothing seemed to work. I was going in circles I went from being a fat kid to skinny, underfed, and overtrained. And I still didn't even have a flat stomach.
Does this sound familiar, even a little?
Eternally frustrated and on the verge of giving up, I finally took the first right step: I got coaching. I finally took the advice of someone who knew what my body needed and how to get it.
Along the way, I learned what REALLY works. I learned to be patient and consistent. I stopped going after the next bright, shiny object and learned how to get after my goals the right way.
I dedicated myself to helping other people build their best bodies through sound nutrition and training habits, picking up a master's degree in Exercise Physiology & Sports Nutrition along the way.
I am not a 21-year-old "Instagram trainer" with massive biceps who will yell at you during his rare breaks from admiring himself in the mirror. My proven track record of success with people like you speaks for itself. My clients lose fat, build lean muscle, and build the right habits to get and keep the body they want for life.
Get the muscular, lean physique you want without living in the gym, or wasting hours in bootcamp and body sculpt classes
You can forget about the meathead, bro-split workouts of Monday chest, Tuesday back, Wednesday legs, etc. You have a real life and a real job, and you don't need to be in the gym six days per week to get the muscle you want.
You will:
Get a training plan that fits into your busy life so you lose weight and keep it off once and for all
Build muscle fast with time-efficient workouts that supercharge strength and energy
Get a smart cardio strategy that builds endurance and helps you recover faster
How to eat the foods you love and still lose weight
You want to lose fat fast, keep it off, and uncover a lean, chiseled physique.
Fat loss doesn't have to be as hard as you think. You don't have to live like a hermit or a monk.
And you won't have to:
Give up your favorite foods or stop drinking alcohol
Lose your muscle mass because you're "on a diet"
Spend hours a day shopping for food or slaving away in the kitchen
Be in the gym for hours, wasting away on the treadmill or elliptical
Buy cash-wasting supplements that don't do anything, anyway
How the program works to build the body of your dreams
Your online personal training plan will be customized to your goals, schedule, and equipment. You'll build more muscle in less time, and achieve your goals faster than you ever thought possible.
You'll receive a new set of workouts every 3-5 weeks, so you can keep progressing and building muscle over the long haul. No more "trying out" new workout plans or guessing when to switch it up.
Online training costs a small fraction of what my personal training clients pay, but provides the same level of individual attention. And you can do the workouts on your schedule, not mine.
Workouts are customizable around work trips, vacations, or anything else that might disrupt your regular routine.
Your Personalized Nutrition Plan will enable you to eat the foods you love! Your favorite foods and treats can be worked right into your plan. You'll also get on-the-go nutrition strategies for travel, family events, or hectic periods at work.
Your Accountability System means you won't just get a bunch of workouts and a diet plan to figure out on your own. I'll be with you every step of the way to guide you and keep you on track. Miss a few workouts? I'll call you on it so you keep making progress.
Bi-monthly check-in calls and regular chat and email access will help keep you on track. Have a question about your plan? I'll get back to you on chat in under 24 hours…usually much quicker.
"I've gotten compliments on how great my back looks this summer! I've been improving a lot in areas where I was weak.

"Anthony is great at really thinking about how my body mechanics work and he tailors exercises to my needs and how I like to work out. His attention to detail during training and in setting up my workout plan are definitely reasons why I'd recommend him to others."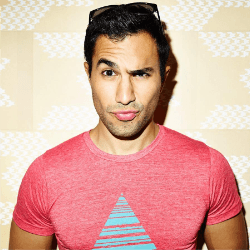 Seth C.
New York, NY
Achieve Results That Last…Once and For All
Are you ready to stop going around in circles, and get real results that last?
You'll learn the right exercises that will build the chest, shoulders, and arms you've been working to achieve
You can stop wasting money on supplements that don't work
You can eat the foods that you love and still enjoy drinks and dinners with your friends
You can stop dropping into random classes that leave you sore and sweaty but don't do anything to get rid of your soft stomach paunch
You'll get the dream body you want with the time and schedule that you already have
Stop trying to figure it out all alone. If you're ready to change your body and take control of your life, you MUST act.
Let's begin with a free 30-minute consultation call to see if we have a match.
It just may be the most important call you ever make.